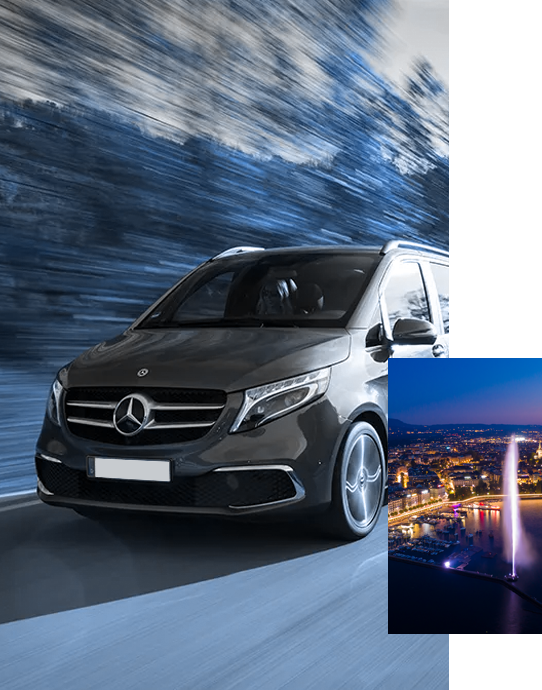 PRESTIGIOUS AND HIGH-QUALITY SERVICES OF PRIVATE TRANSFER
CAR RENTAL WITH A PERSONAL DRIVER
Nemessi Swiss Travel is a well-reputed company specialized in providing tourists with private transport services, including a professional driver. We use our expertise to offer this high-quality range of reliable service: Transfer tour, transfer to ski resort, transfer airport and train station. Our car rental company highly cares about your comfort and your safety and considers them as priorities. For this reason, we do everything in our power to ensure that your trip will bring you joy as well as peace of mind.
You will be comfortably seated in a luxury vehicle and surrounded by all the equipment you need, refreshments and delicacy. We put at your disposal vehicles with a occupancy rate of 7 people and mini-bus that welcome up to 16 passengers. Our number one goal is meeting your standards and expectations by making your leisure or business trips in Europe sublime and exceptional.
PRIVATE TRANSFER: WIDE COLLECTION OF LUXURY VEHICLES
COMFORT, SAFETY AND ADAPTATION
To perfectly cover your travel needs in Switzerland and across Europe, our private transfer company offers you different models of cars that meet your preferences and needs. At Nemessi Swiss Travel company, we believe that technology should be at the core of our cars and minibus, and this is exactly why all the vehicles in our collection are specially equipped to offer you an amusing and unique traveling experience. Also, all their seats are reupholstered with top-quality leather.
Additionally, we accord a great importance on the safety of passengers, including their health and security. And for these very reasons, we put at your disposal cars and minibu with robust security systems that surely strengthen your safety and protection and facilitate your vacation or professional trip. We disinfect the vehicles with a bactericidal, fungicidal, virucidal and acaricidal spray as well.
PERSONAL DRIVER IN SWITZERLAND
COMPETENCE, PUNCTUALITY AND RESPECT
Nemissi Swiss Travel puts at your disposal a competent team of personal drivers that have remarquable experiences and a perfect knowledge of the routes in Switzerland and Europe. Alos, our qualified drivers are characterized by their professionalism and their determination to carry out their missions of private transfer safely. No matter the destination in Switzerland or Europe, our drivers ensure a secure roadtrip for all our customers in the utmost comfort.